This is Sarah from
The Munchkin and Little Miss
and I'm guest blogging today so Reagan can write a paper for her Advanced Instructional Strategies class. I think she is actually taking a nap or shopping for her trip to Vegas but whatever.
Today I'm
Pouring My Heart
out over an old question that has been very hurtful and confusing: Can Men and Women be Friends?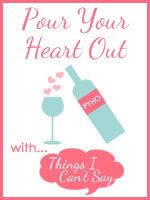 Society tells us that if men and women are friends it will ultimately end up in a sexual relationship. I don't believe this is true. I believe that men and women can be friends. I believe that there has to be honesty not only between the two friends but also honesty with the spouses of the friends. I am going to tell you my story and in turn you can tell me what you think.
I have been BEST friends with a guy for 15 years. "Sam" and I met at the bus stop when I was 12. He is 2 years older than me so we only had one year of Jr. High together before he went off to high school. We still remained friends and when I started high school he drove me to and from school until I got my license. He became a rock for me. At one point during the school year I was was having a really hard day and I couldn't stop crying. My mom called him and asked him to come over. He just sat there with me while I cried on his shoulder.
When "Sam" graduated, he went into the military and we drifted apart but still remained close. From then on we had one of those friendships where we could always pick up where we left off the last time we spoke. We could always count on each other to be there when it mattered most.
He was the first person I called when I decided to divorce my first husband. I was the one friend that he warned his girlfriends about. We watched out for each other when it came to who we dated. He wanted my approval and I his.
After my husband and I got married and I became pregnant with our first daughter, I met Sam's new girlfriend and I honestly liked her from the beginning. This was rare as there were only a few of his girlfriends that I liked. But this one was different. I could see how happy they were together and that's all I needed to be happy for him. I think the other thing too was that she never seemed to have an issue with Sam and I being friends. Our friendship continued like normal. Talk every once in a while. Get together for dinner. "Jill" asked me to be in their wedding after "Sam" proposed.
After the wedding Sam and I started hanging out more. You see, Jill was sick and after the wedding spent most of her time in bed or at work. Sam was becoming angry and needed someone to talk to. Since I have been the sick wife, or rather am the sick wife, I knew where Jill was coming from.
As an outsider I was able to get Sam to see what life is like for Jill. I was able to help him get to a place where he wasn't angry with his wife and could go home and talk to her.
During all of this my husband was well aware of the time I was spending with Sam. My husband understands how much Sam means to me as a friend. I was open and honest with him from the beginning and I thought Sam was being the same way with Jill.
Little did I know.
I later found out that Jill was not happy about us hanging out or that Sam talked to me about what was bothering him. So we decided to sit down and figure this all out like adults. I apologized to her because I thought she knew and was okay with us hanging out.
After we had our talk we all agreed on a certain amount of time Sam and I could hang out. We also agreed that I wasn't the issue. The issue were her insecurities in her marriage. We ate dinner and the next day they watched our girls while we went to Denver. I thought everything would go back to normal.
The following weekend Sam and I were supposed to hang out. It was the last time. Jill decided that she still didn't like us hanging out. By this time I just wanted her to make up her mind. She went from giving me a key to their house to not trusting me around her husband despite knowing that Sam and I have never even kissed!
The final straw was when she decided that she wasn't comfortable being around me in any setting. I told Sam I couldn't take it anymore. He would always be my best friend but I needed to take a huge step back from all of his wife's drama.

I felt like I was being portrayed as a home wrecker, which I'm not. He needed to work on his marriage.

That was November 17, 2010 and we have not hung out since. There have been two instances when we have spoken since then and other than those two times there has been no communication but that's it!
There are days that I miss my friend, but this has given me new insight to the whole men and women being friends.
What I think is that men and women can be friends. However, marriage changes the dynamics of that friendship. I think that it's okay to hang out just the two of you as long as your being honest with yourself, your friend, and your spouse.
But then I think of this experience and I don't know; maybe I am just deluded. Maybe all of this is a shining example that men and women can't be friends.
Can men+women=friends?
What do you think?