Today's guest blog was penned by Sarah. I talk about Sarah all the time on my blog because she's one of my closest friends who just happens to make great cheesecake. Please take the time to read her post and then pray for her. And if you really want to encourage her, leave a comment (or go to her blog
Frontier Kitchen
, and leave a comment there).
Sarah is pouring her heart out with with Shell at Things I Can't Say.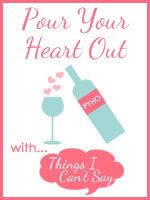 ************************************************
If you've ever spent an afternoon with a group of moms, you'll notice that we talk about pretty much anything: television shows, kiddos bed times, date ideas, pregnancies, allergies, books, our child's developmental milestones, in-laws, vacations, house hunting, etc. But there's one thing that we rarely talk about…
Infertility.
The "I-word" often seems to be taboo. And understandably so. Everyone prefers to talk about the joys of pregnancy and cuddly cute new babies. Those of us who have dealt with infertility would rather pretend it doesn't exist; pretend that we're normal and 100% emotionally stable. When, in reality, all it takes is someone innocently asking, "So when are you going to have another baby?" to send us out of the room bawling
.
I know. I've been dealing with the "I-word" for the past two years since I had a miscarriage and lost our precious baby in 2009.
I've had countless tests done. My regular doctor can't find out why I'm going through this. I've seen an infertility specialist. Right now I'm literally days away from an invasive surgery to determine if endometriosis is the remaining possibility.
I feel completely isolated and alone in dealing with this issue.
But as it turns out, second-time infertility is
very common
. But nobody talks about it. We see many of our friends and coworkers with one child or with large gaps between their children and assume it's because they used birth control and/or they were too busy with their careers to want another child.
As a Christian, infertility has challenged my faith in ways I never expected. It's really popular to hear Christians refer to Psalm 37:4 "Delight yourself in the LORD, and He will give you the desires of your heart." Or similar passages that speak on God fulfilling the hopes and dreams and goals that we have, if we believe in Him.
But yet, even though I've wanted, hoped, and prayed for God to bless us with a baby for the last two years, He hasn't.
I continue to struggle on a weekly basis with the life God has given me even though I'm incredibly blessed with a wonderful husband and daughter. God's met all our physical and financial needs every day of my life. And in my heart, I want to walk in the path He has planned for me, whatever that may be.
But, more than almost anything else, I want another child. I always envisioned myself as having 3-4 children. I planned on being a mother first and having a career later in life.
But perhaps God's will is different than my own life plan. He knows that I have no desire to teach before all my children are in school. Perhaps He isn't giving us another child because I'm meant to start teaching next year as our only child begins kindergarten. Perhaps my persistent baby fever is a gift from God and meant to be directed towards the children I will teach. Perhaps some of them will be from broken families and need someone to be in their life daily to care for them unconditionally and be their constant champion and supporter. Perhaps by being that person, I will make a huge impact on the direction that child's life takes.
All I know is that dealing with infertility is emotional and isolating. Because we don't talk about it. I only know of one friend who is also dealing with infertility right now even though I'm sure there are more. I pray for her almost daily because I know the pain and heartbreak that is accompanied with infertility.
Essentially, I'm writing this because I want you to know that if you're dealing with infertility, you aren't alone. Infertility may be taboo but it doesn't have to be. Yes, talking about it is painful but once you do, you'll be able to find friends and family you can go to for emotional support.
Anyhow, I don't have any answers on this topic but would love to hear your thoughts.