Welcome to February's 3 Way Challenge!
(If you want to know more about the challenge,
click here
)
My "uniform" challenge this month was to wear a brown long-sleeved T three ways. I started the challenge off with a dark brown T but somehow it got a stain on it so I switched to this light brown T.
Good thing I have five long sleeved brown Ts, eh?
Anyhow, I paired my T with a fur vest, boots, jeggings, and gold accessories for a night out; brown tights, boots, denim dress, and pearl/animal print necklace for work; and jeans, necklace, and cardigan for a day home with sick kiddos!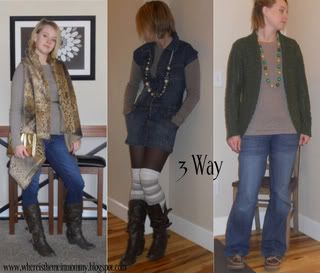 Can you believe it is the end of February? Time seems to fly, doesn't it.
For March I am going to take advantage of the last cold snap and have the three way challenge involve a sweater.
Pick a sweater, any sweater (but the same one 3 times) and mix it up in new ways. Wear it with a scarf or bold necklace. Layer it with a blazer ... how will you wear your sweater?
Don't forget to enter my giveaway for an e-book called 50 Things Every Woman Simply Must Own.
Click here to register
!