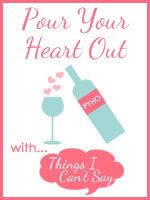 Bet that title caught your eye, eh?
Am I the only one who, as a Christian woman, gets mixed messages about sex?
I mean, what little I hear about sex in church is generally related to the "thou shalt nots." Thou shalt not have sex until married. And thou shalt not have sex with the lights on. Thou shalt not have sex in any position except man on top.
All these "shalt nots" really have me so bound up I feel like I'm trapped in a prison called sexuality.
Is this how God intended me to feel about this gift He calls sex?
I instantly want to say "NO!" yet I've never heard a group of Christian women sitting around in complete freedom discussing how sexy they feel with their husbands or how free they feel in celebrating their sexuality with their spouses.
For something that's supposed to be divine gift, Christians are pretty tight-lipped.
In a culture of rampant promiscuity, pornography and erotica, I sort of feel that because I'm a Christian I'm supposed to not talk about sex--not think about sex--not experiment with sex--not enjoy sex. The result--sometimes I feel like sex is more of a burden than a gift.
When I read through scripture there are definite references to "thou shalt nots" but have you ever read Song of Solomon? I mean, that book is ripe with imagery of woman who dances in the freedom of her nude body before her husband; a woman who fully and sexually gives herself to her man; a man and wife who experiments with sexual positions. She is sexually free to enjoy her husband.
That feels to me more like what sex should be like--the "thou shalls" instead of just the "thou shall nots".
Even though I'm trying to work through this "sexual awakening" where I become more confident with myself, more willing to give myself to my husband, I get "stuck" sometimes. And where does a Christian woman turn when she needs advice and encouragement about sex?
From my experience it hasn't been the church--it hasn't even been close, Christian friends; thus, I've turned to the internet.
Of course there are all sorts of taboo things on the internet so I was diligent in doing "healthy" searches. And I came across this site:
Christian Nymphos
The name "Christian Nymphos" is not meant to offend. "Nympho" is a term attributed to a woman with an abnormal desire for sex. According to The Christian Nymphos, a Christian woman who wants to enjoy sex, talk about sex, experiment with sex and be passionate about sex is very often abnormal in her circle of friends.
The Christian women who run this blog, a few with pastors as husbands, are passionate women who want to teach women to walk in sexual freedom with their husbands.
From what I've seen of the site (and at this point I may have seen everything), The Christian Nymphos aren't afraid to tackle "taboo" topics such as oral sex, anal sex, foreplay, and sex toys. They answer questions honestly, directly, bluntly and with scripture.
Honestly when I found this site, I was shocked at the content.
It made me uncomfortable.
However, I forced myself to read a few of their articles like
How to Have a Sexual Awakening
,
Correcting Wrong Thinking About Sex
, and
10 Ways to Embrace the Sexy Wife God Made You To Be
.
While many articles address women who are struggling with their sexuality, many more addressed women who are living with husbands who are "refusers." I know several women who feel alienated because common talk is the over-sexed man and the "not tonight" wife. How isolated must a woman feel when she is married to a man who does not desire her often? If that's you, this site has words for you--encouragement. Specifically check out
Living with a Refuser
.
The articles I've read made be breathe a sigh of relief. I was so grateful to know I wasn't the only woman out there struggling with my sexuality and my self-image. I'm not the only one who needs a community of Christian women discussing sex in a positive, passionate manner.
What I like most about this site is that it is a community of women.
Men
are encouraged to seek information elsewhere and their comments are not allowed until they are monitored. There are no explicit photos.
Women, on the other hand, are on the Christian Nympho site asking tough questions, sharing romantic ideas, and offering encouragement. That's why I've bookmarked The Christian Nymphos and continue to check out their posts.
What I think is there is a Christian Nympho inside me dying to get out and share a passionate, intimate sex life with my husband.
How about you?