From the process of "shopping" in my closet for the 30/30 challenge I learned to creatively mix clothing pieces.
Because of this challenge I am creating a new monthly feature called the
3 Way
.
3 Way
Every month I am going to choose a "uniform" piece of clothing (something I routinely wear--think jeans, white T-shirts...) and I'm going to style it three different ways. I'll compose the three photos and place them in a post the last Friday of the month.
I'm considering making this a "linky" challenge. Anyone interested? If so, leave a comment below!
While you are thinking, here's the first installment of
3 Way
First up, my favorite graphic T. This $3 Target find is a wardrobe staple. I generally wear it very dressed down with jeans. So I challenged myself to some other looks.
Here's what I came up with!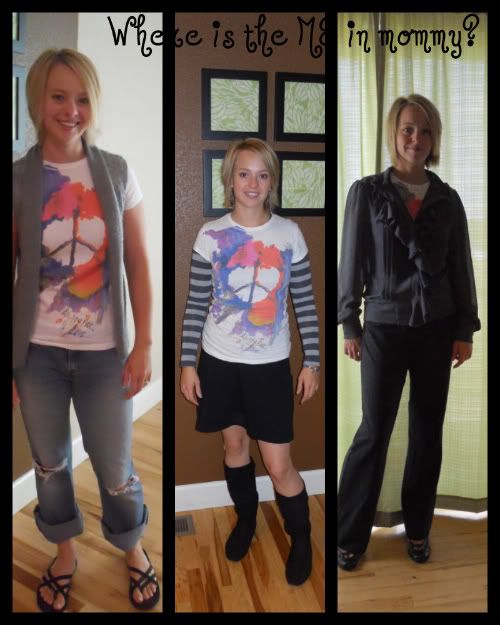 Look #1--The usual. Jeans, knitted cardi, sandals ... all the fixin's for a lovely Indian Summer day.
Look #2--A little Emo (cuz' deep down I'm like that)--striped undershirt, graphic t, skirt, and boots. Can you say--perfect for a day at the library with kids?
Look #3--Work day. I managed to wear a T-shirt to work when I paired it with black slacks, heels, killer earrings, and one of my signature filly-jacket tops.
What I've learned: my favorite graphic T is SUPER versatile though I prefer it matched with the color gray (as is painfully evident).
February's Challenge: Brown Long sleeved T-Shirt
Want to join me? Pick one long sleeved T (brown if you have it, another color if you don't) and work it 3 ways. Contact me about linking up to share your 3 way adventure!