Tomorrow I'm giving the details of an Iron Chef date.
Until then, check out this recipe that is perfect for a date night or an amazing way to WOW your Thanksgiving Day guests.
You will need: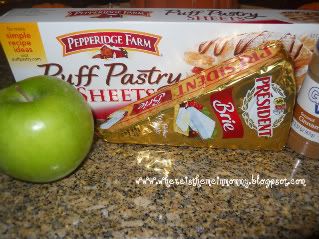 1 sheet frozen puff pastry
1/8 t. cinnamon
8 oz wheel/slice of brie (rind on or off--your call)
1/4 c. brown sugar
1/2 small diced apple
1 egg, beaten
To Make:
Defrost puff pastry for about 20 minutes. Unfold.
Lay pastry on flat surface.
Place brie in center of pastry.
Top with brown sugar, apples and cinnamon.
Gently pull extra pastry together.
Brush with beaten egg.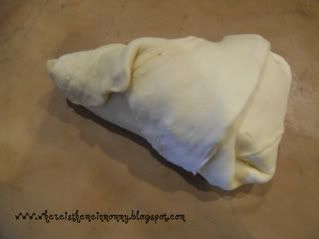 Bake at 375' for 20+ minutes until pastry is a golden brown.
Serve with crackers and apple slices.
(Ok, I've re-sized these photos like crazy and the last one won't shrink. Grrrr photobucket!)