In early October I read a double date idea on The Dating Divas (
click here
to see the date "how tos"). The concept was to re-create an Iron Chef competition as a double date. Now since I happen to have a friend who is a great, adventurous cook and since I like to cook myself, I thought this sounded like a great idea.
I immediately texted Sarah (of
Frontier Kitchen
fame) to tell her of my scheme.
She was in.
We set a day (Saturday), a theme (mini-Thanksgiving), drew "courses" (I had appetizer and drink; she had side dish and dessert), and then went home to ponder our "secret ingredient."
*If you don't know, whatever food the chef makes HAS to have the secret ingredient in it*
Truth be told, I wanted Sarah's secret ingredient to be HARD. At first I was thinking cranberries or marshmallows but I wanted something tough.
So her secret ingredient was RED HOT CANDIES.
My secret ingredient was cinnamon (Give me a break--she's the better cook. It was only fair).
Come Saturday, shopping was done, table was set, and Team Frontier Kitchen came to Team WITMIM?'s house and the cooking started.
Okay, the husbands didn't love the cooking part of this date idea. They aren't very into cooking. So basically the girls cooked and the guys visited and did helpful things like wash potatoes and get pears. Whatever. They liked the food.
Here's what we ended up with:
Sweet Cinnamon Apple Brie en croute
Pear, spinach, and feta crustini (
similar
)
Cinnamon rubbed roasted chicken
Mashed red potatoes with nutmeg and cinnamon
Chocolate cobbler with red hots and whipped cream
Apple Pie a la mode martinis
The best part of this date was that it was fun and low key (and the fab food didn't hurt much!).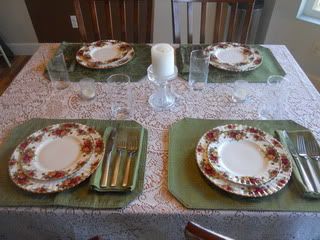 So if you have some friends you'd like to have over for dinner, why not spice it up with a double date night in Iron Chef style?