Once again I'm linking my thoughts up with Shell from
Things I Can't Say
who hosts Pour Your Heart Out every Wednesday. Thanks, Shell!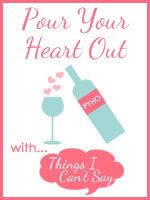 A few weeks ago we went out to lunch with some friends. The gal and I were chatting and she was sharing how much she hated veggies.
I laughed and said Madisen prefers kale chips to potato chips and thinks beets are pretty much awesome (mostly because they make her poop and pee red but whatever).
My friend was a bit shocked and asked how I get my kids to eat such foods. And I replied, "Easy. I don't make it an option." I continued by sharing that I actually tell my kids that as long as there are human beings eating the remains of leather tennis shoes from dumps, we will eat the food provided to us. I almost fell out of my chair at her reply.
"Oh," she said, giving me a somewhat "shame on you" glance, "you used the 'starving kids' story."
How badly I wanted to say, "It's not a story--it is a reality!"
As a family we adopt children from Horizon International because we want our children to know and understand that not all people live in a land of plenty. Not all kids complain that they don't like their beets. In fact, many kids eat trash just to survive.
Now I'm sure I'll be totally unpopular when I share some of my food thoughts and that's okay with me. We can agree to disagree.
1. I am not a short-order cook. I make 3 meals a day and my kids have an option at each meal. They can take it or leave it. If they leave it, they can eat again in a few hours. Do I hate thinking about them being hungry? You betcha! Do I know my kids won't starve themselves? Yep.
2. You don't have to eat everything on your plate but you have to eat some of everything on your plate. They are called "polite bites." Does this hold true for adults? Yep. Matt hates beets. Does he eat them? Yes. I can't stand ham. Do I eat it when my mother-in-law makes it? Sure do.
3. You do not get dessert if you do not eat your dinner. No junk goes in until health food does. Period. It's not a bribe. It's not a plea. It's not a requirement to clean your plate. But my kids know if they want a fruit pop after dinner, they are going to have to eat some of that spinach.
4. My children can refuse to try any part of their meal. However, they must be prepared to not eat anything else until they've tried the food. Has my daughter gone to bed hungry only to have lemon-dill salmon and wild rice for breakfast? Yes.
To be fair, I respect my kids' likes and dislikes. Madisen can't stand mushrooms. When I make chicken marsala, I don't give her any. She's tried before and doesn't like them. No need to get into a power struggle. On the other hand she love tomatoes so when we are having tomatoes, I give her more than I give myself.
In the end I just lean on this tidbit given to be by a friend--I can't control when or how much my kids eat but I can control what they eat. And as long as I'm in charge of that, I will offer vitamin rich, organic fruits and veggies, lean cuts of meat, and a variety of colors and flavors to try.
What I think about getting my kids to eat is that with some clear, consistent food rules, it's a piece of cake!
Do you have food rules? What are they? Food battles? Share? Going to turn me into DFS? Let me get you their number ....