Don't get me wrong. If I had my way, this would be hanging in my entry way niche.
Jackson Pollock's Blue Poles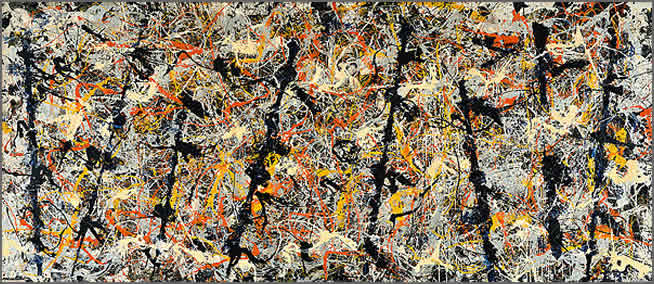 Until one of Pollock's paintings is on the wall, we're making due with some of inexpensive artwork.
What I love about this artwork is that Matt and I put it together.
Okay, what I really love is that it was cheap!
How? With the exception of the photos, all the artwork is scrapbook paper (around $.50-$1.00 a sheet).
Dining Room Ecological Prints
The square frames in the dining room were $8 each. With paper we spent $34 dollars on art. If you add in the quart of paint for my brown tree-trunk stripe, the artistic wall cost $40!
I love the ecological feel of this green, leafy work in our dining room.
The art pieces are arranged on a chocolate turtle stripe that compliments our brown leather furniture and cake platter blue opposing wall quite well. It feels like my own little garden!
Stair-Step Conversation Piece
We spent the most money on our living room art because we knew it would double as a focal point AND a conversation piece. Three frames cost $5. One frame cost $10. One cost $12. The biggest frame cost $20.
Even though we had $57 dollars on picture frames, the photos were cheap to develop. We spent less than $10 getting photos from our European vacation printed.
What we love about this little collection is explaining to people what the photos are of--a crowd of umbrellas on a rainy day in Prauge, a six hundred year old castle ruin in Baden Baden, The Colosseum...
Photographs of Europe hang over our couch. The stair-step pattern mimics
the stairway right behind the wall.
Bright and Bold Master Bedroom
The 12x12 frames for our master bedroom were $4 each (that means with paper, we spent about $27 on artwork for our bedroom).
These bold colors and patterns make our master bedroom spicy!
The full layout--clearly we love geometrical design.
Need to spice up the walls on a dime?
Head to your local craft store and look at scrapbooking paper
Hit some thrift stores or garage sales and get some frames
Buy a can a spray paint for frames as needed
Go through you photos and find ones that would make good works of art (play with color--black and white, sepia ...)