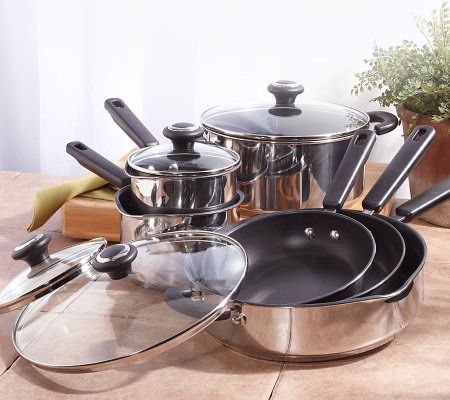 For our wedding we were given a set of stainless steel pots and pans from QVC. Th brand is Cook's Essentials.
I consider myself to be a pretty dang good cook (and if you disagree, you are henceforth formally disinvited to dinner). Anyhow, I've run the gamut of pots and pans. Calpahan, La Creucet, cast iron, Pampered Chef, Rachel Ray--you name it, I've tried it. And you know what, I always, always, always come back to my fairly inexpensive Cook's Essential pots and pans.
They are heavy duty, non-stick, and dreamy. And remember, I'm not getting paid or getting new pots and pans to say this. These are the pans I use. The pans I love. The pans I recommend. And I'll tell you, after 8 years of hardcore cookin' there's not a scratch in the non-stick coating (though I'm also anal about NEVER using metal cooking utensils!)
If you've got a wedding this summer, look into the 10 piece set of Cook's Essentials. The cook in the marriage will thank you.
I love my pots and pans! *sigh*
What cooking gadgets do you love?