Nichole is a "WTMIM?" reader who was inspired to organize and offered to share her photos. Yeah! I love this!
Here's a bit of a note she sent to me:
After seeing your newly organized laundry room I was inspired to organize my hall closet. In addition we had company this weekend, and in the middle of the night one of them needed some medicine. These are very close friends, and when we opened our house to them we wanted them to feel at home, and that means in the middle of the night too. My dear friend could not find any Tums for the life of her. Poor thing; she was miserable. In addition to that it has been driving me nuts! So I have included some before and after pics. Now my closet it more organized and I feel so much better. Sometimes when I am having a bad day organizing something makes me feel like I have some sense of control over things in my life.
Ah, that last statement makes Nichole one of my kindred spirits!
BEFORE
AFTER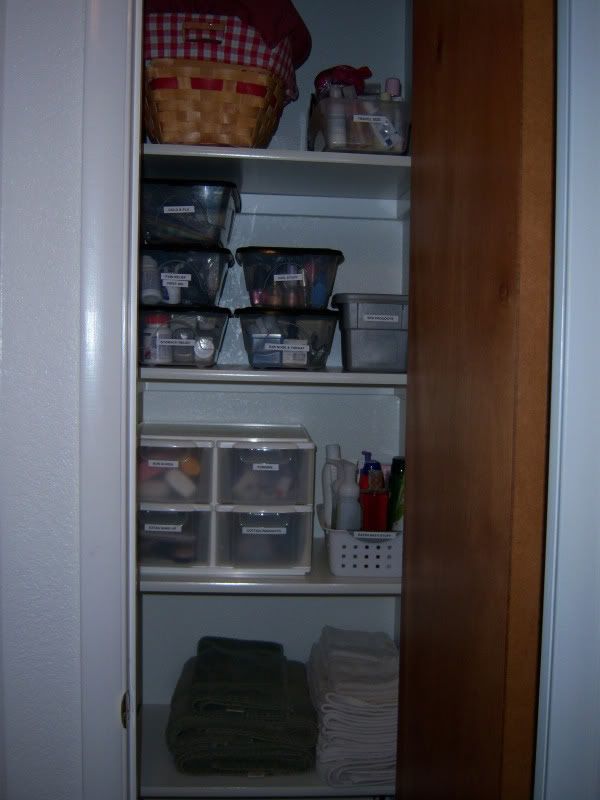 LOVE THOSE LABELS!
I'm sure we can all agree that Nichole's result is AWESOME. Good job Nichole and thanks for sharing.
Consider rolling towels and stacking them in a pyramid or placing them in an awesome basket. It looks very decorative (and some argue it takes less space but I'm up in the air--I just like how it looks and I'm not opposed to decorating closets).
If you have an organization success, take photos and send them to me! I'd love to highlight you and give you a much needed high five for your hard work!